Interested in selling your car, truck, or SUV? The time is now.
Prices are dropping on used vehicles, and you may need to act fast in order to get the best deal possible. Below you'll find a quick overview of every piece of information you'll need to sell your vehicle.
If you've been waiting for the right time to sell your car in North Carolina, give us a call.
Why do I need to provide my VIN to get a quote?
The VIN ("Vehicle Identification Number") is like your car's Social Security Number. It identifies your specific vehicle and connects it with its history: accidents, owners, repairs, and inspections. It also details the year, make, model, color, and sometimes the trim of the vehicle. The VIN is (almost) every piece of information a car buying service needs to make a rough estimate of your car's value.
Where can I find the VIN?
The VIN is a 17-digit combination of letters and numbers. It can be found:
On the lower corner of the driver's side windshield
Door jamb of the driver's door
Vehicle registration
Insurance card or policy documentation
Vehicle's title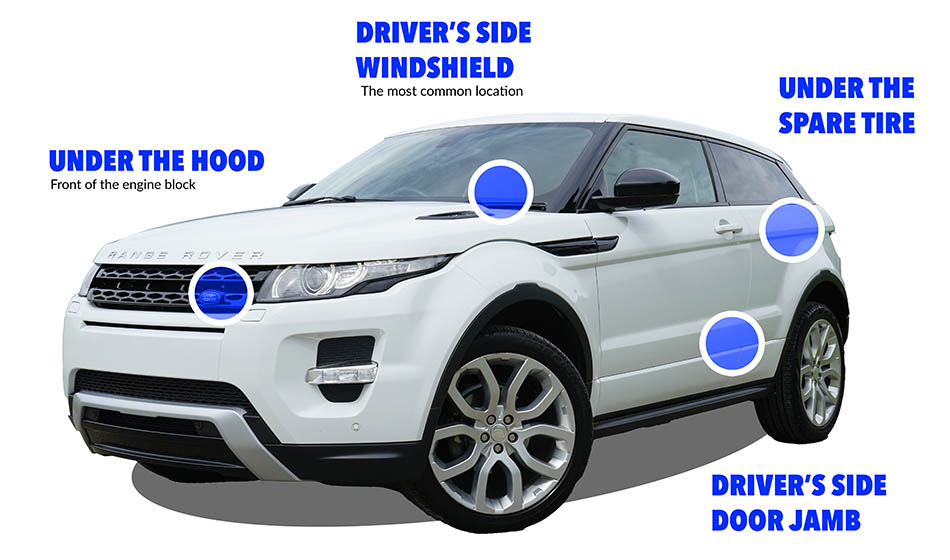 Is it safe to provide my VIN to a dealer or car buying service?
Yes, it is safe to provide your VIN to a car buying service.

Think of sharing your VIN the same way you might share your license plate. While both numbers could, theoretically, be used as personally identifiable information – both your license plate and your VIN are visible from the outside of your vehicle, and available for the public to see.
It's always smart to be conscientious when sharing personal information online. As far as identifying information goes, however, a VIN is a fairly benign thing to share.
Does the VIN identify the trim?
At times, the VIN will not provide the dealer or car buying service with the specific trim of your vehicle. The trim is what differentiates a specific model of a vehicle such as if it has leather or cloth seats, sunroof or no sunroof, and many other differentiating features. You can typically locate your trim on the rear of the vehicle.
The same model of car could have different features – sunroof, leather seats, performance options, etc – and these differences are noted by the "trim package," commonly shortened to two or three letters.
You can typically locate your trim on the rear of the vehicle, next to the model name.
The VIN isn't everything.
Lots of online car buying services offer an "Instant Cash Offer" – put in your VIN, receive an automated offer. While quick, these offers are based on an incomplete picture of your unique vehicle.
The VIN provides enough for an estimate, but for the most accurate and highest quote possible, you'll want to provide more information.
What other information do I need to sell my car?
There are a few other especially important items that are needed for you to receive an accurate offer on your vehicle. Let's run through each of these items and discuss them briefly:
VIN
Mileage (Odometer Reading)
Any "warning" or "check engine" lights on the dash
Cosmetic issues (scratches, dents, dings, stains, etc)
Mechanical function or defects (Is it drivable? Would it pass state inspection? Do the windows work?)
Location of the vehicle (City, State)
Title & loan status
What is the mileage?
This item is simple and straightforward. Turn your key to the "on" position and write down your odometer reading.
If the miles have not been rolled back, the mileage should be reported accurately. If the vehicle odometer reading has been rolled back, it is most likely indicated on the CARFAX, and the dealer or car buying service will see this information when you provide your VIN.
Are there any warning or check engine lights on the dash?
Another easy one. Start your vehicle as if you are about to drive it and see if any lights are illuminated on your vehicle's dashboard.
There are 64 standardized warning lights, but the most common indicators are:
Check Engine Light
TPMS Light (Tire Pressure Monitoring System)
Airbag Warning Light
Traction Control Warning Light
ABS Light (Anti-Lock Brake System)
A car buyer will need to know about any illuminated warnings on your dashboard, so make sure to mark them down.
Are there any cosmetic issues with the vehicle?
This step can make a huge difference in your quote. It's worth doing a thorough inspection of your vehicle, inside and out.
Take a minute to walk around the exterior of your vehicle and look for dents, dings, scratches, paint blemishes, and any other deformities that a dealer or car buyer will note when they come to inspect the vehicle themselves. It's good to notice any dings or scratches now, to avoid being surprised by the appraiser pointing out a defect you hadn't noticed.
Next, check the undercarriage for any rust or other defects, as this could dramatically decrease the value of your vehicle.
Finally, go through the interior of the vehicle and check for stains, wear on any components, broken plastic pieces, cuts in the carpet or seats, or anything else that an inspector would notice.
Is everything mechanically sound?
"Mechanical soundness" just refers to the mechanical operations of your vehicle – blinkers, air conditioning, power windows, power steering, etc.
The appraiser just wants to see if your vehicle is drivable, and operating as it should. They will test drive the vehicle to make sure that the engine is free of noise and that the transmission is smooth. They will also want to know that all the windows work, that the A/C (air conditioning) is blowing cold, and the heat is blowing hot, and ultimately that the vehicle is free of any mechanical issues.
Where is your vehicle located?
This one is as simple as it sounds! Some appraisers – like the buyers at Get400More.com – come to your work, driveway, bank, or wherever your vehicle is when you'd like to sell.
Do you have the title in hand?
If you hear a dealer or car buyer asking if you "have the title in hand," it simply means that you have possession of the title and that it is free of liens.
If you answer no to that question, they will want to know if you are financing or leasing the vehicle, and if so, through which company.
Some vehicles cannot be bought out by a third-party company if they are leased. We covered that issue in detail in our article about GM's new financial rules: If GM Financial Owns Your Lease, Here's What You NEED To Know.
If you owe money on your car, you can still sell it. We wrote up a guide for making that process easier: CanI sell a car when I still owe money on the loan?
To recap, here's what you need to sell your car:
VIN
Mileage (Odometer Reading)
Any "warning" or "check engine" lights on the dash
Cosmetic issues (scratches, dents, dings, stains, etc)
Mechanical function or defects (Is it drivable? Would it pass state inspection? Do the windows work?)
Location of the vehicle (City, State)
Title & loan status
Once you have all this information, you are ready to inquire about selling your vehicle!
How can I make the most from selling my vehicle?
There are numerous ways to sell your vehicle! Whether privately, through a car buying service, or visiting one of your local dealerships. If you are looking for the most profitable and easiest way to sell your vehicle then you need to contact Get400More.com!
We make the process SO simple while beating offers of other car buying services and dealerships. We come to you, inspect the vehicle, and pay you on the spot with no holds on our checks! We even take care of all the paperwork to take the stress off our customers.
Once you have the information listed above, be sure to give us a call at 1 (844) 400-MORE or chat with us online at Get400More.com!