Selling your car isn't just a pain – it has the potential to be a financial disaster if you're not careful.

You're unlikely to sell your car for what it's actually worth, let alone make enough to cover the cost of therapy to deal with the stress and headache of fielding potential buyers, or avoiding scams, or tying up the legal loose ends.

Luckily, you don't have to suffer through all that. Here are some headache-free tips to get more money out of selling your used car.

Start with easy, cheap (or free) fixes for your car.

The best way to convince potential buyers of your car's value is to make a good first impression. Dingy, smelly, scratched up cars won't impress someone looking to buy used cars – no matter what's under the hood. If you're wondering "what's the best way to sell my car for cash?" the answer lies in documentation and maintenance.

Keep detailed documentation.

This is easy to do, with a HUGE potential return in value.
Taking the time to maintain records of every oil change, tire rotation, or trip to the body shop proves to a potential buyer that your car is your baby. It eliminates a huge amount of risk for those who buy used cars. (And wins a massive amount of trust.)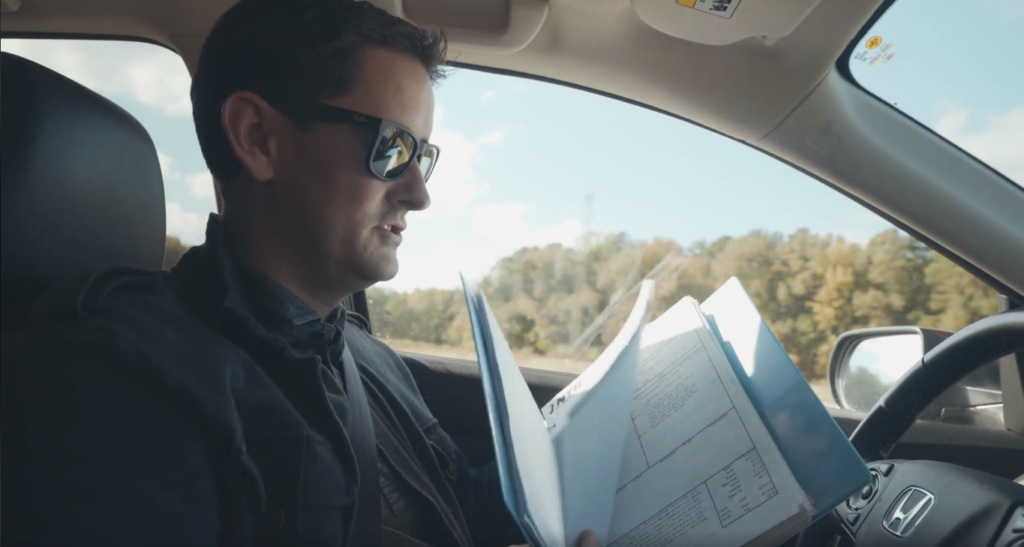 When we went to purchase Katie's Jeep, she revealed a binder's worth of receipts and service records – everything she'd ever had done to the car. That binder turned her $2,500 car into a $4,500 deal. When people look for used cars for sale – this is the kind of record-keeping they want to see.
Lights

Usually not expensive to replace – and clear lights make a big visual impact. There are plenty of commercial light cleaners, as well as some DIY fixes.

Windshield Chips/Cracks

If your windshield is cracked, check the cost of repairing or replacing your windshield before showing your car to potential buyers. It may be cheaper than you think – and, you could make back most of the cost (or more.)

Tires

If you've let your tires get visibly worn, a buyer may assume that the rest of the car is that worn, too. A new, inexpensive set of tires (or even a polish) will greatly increase the curb appeal.

Scratches & Dents

Obvious dings and scratches might give the impression that you don't care for your vehicle – and if it's not valuable to you, it won't be valuable to a buyer, either.

Detailing

You don't have to pay a professional to get great results.
Vacuum, polish, and deodorize your car's interior. Remember that the right products for the job will always be your best bet – run-of-the-mill all-purpose cleaners won't do as great a job as something made specifically for this purpose.
Consider replacing floor mats or any other easily replaceable interior item. Don't assume an item is too expensive to replace. Check online or at your local auto supply store for affordable options.

Fix warning lights.

Simple warning lights (washer fluid, low tire pressure, etc.) are a no-brainer to fix – but your buyer may subconsciously reduce their offer amount if they think there are problems to fix on the vehicle. If the check engine light is on, you'll definitely want to get that taken care of as it may indicate a big problem.
Don't get fooled when speaking with used car buyers. Some are better than others.

Take time to find the RIGHT buyers – the ones that actually deserve your business. A lot of places buy used cars, but not all of them are going to be right for you.

The wrong buyer will still manage to undervalue your car, no matter how well maintained it is.

Avoid Dealerships.
When you sell your car to a dealer, their motivation for buying the car is to turn a profit. This means that their ONLY goal is to acquire the car for as little as possible.

It actually costs a dealer more than what they pay to take in your car. They have to pay to get it detailed, inspected, towed, auctioned, and more – and all that money has to be factored into their offer amount.

If you don't fall for the bad offer, oftentimes dealers will try to trap you in a bad trade-in deal.
Above all else: IGNORE TRADE OFFERS.
Many people often wonder "Should I trade in my car instead of selling it outright?" Let's make one thing perfectly clear – trade dollars are not real dollars. You can check out our guide for more on how difficult it is to win a trade.

Stay informed when listing used cars for sale online.

Listing aggregators (like CarGurus, Autotrader, or Cars.com) post your car to giant, searchable lists with thousands of other cars "for sale by owner" on the internet. Easy, right?
It sounds easy. SO easy, in fact, that everyone else with a car to sell is doing the exact same thing. Your car may struggle to stand out in an ocean of similar car listings. In addition to that, they often charge a fee, either upon sale of your vehicle or upon posting your listing.

It's the worst of both worlds: you have to manage the sale yourself (including fielding buyers, showing the vehicle, and dealing with paperwork) and have to split the profits with the site that's listing it. Listing used cars for sale this way isn't really advantageous to the seller.

Deal Locally

Instead of listing aggregators, you might consider posting in Facebook groups, on Craigslist, or sourcing buyers from a local auto trader magazine.

Reach out to friends and family to see if anyone has a "car guy." The accountability from knowing a friend of a friend may help you get an honest deal. When putting up used cars for sale, try to work within your own network before branching out into the unknown.

If you deal with car buying businesses, make sure you're dealing with honest experts.People who wonder "what's the best way to sell my car for cash?" sometimes wind up on sketchy websites. Many "cash for junk cars" offers turn out to be scams. Take time to research the business' web presences, reputation, and owners before reaching out to make a deal.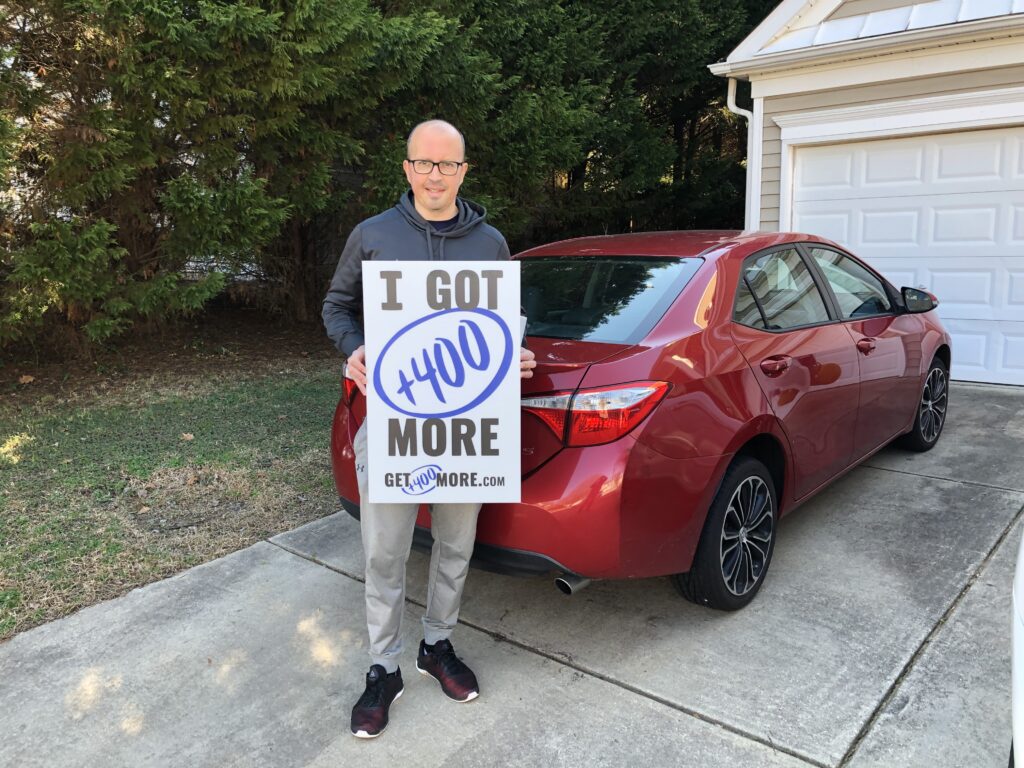 On average, Get400More.com will pay $400 more than any competing offer. We've purchased thousands of cars in the Raleigh, NC area. People who originally considered "Should I trade in my car?" ended up finding a much better deal by selling for cash with Get400More.com.
Advertising will sell your car for you.

Be sure to advertise effectively.

Be as up front and transparent as possible to earn a buyer's trust.
Take good photos of your car on a sunny day. Make sure to document the interior and exterior, be up front about any wear and tear, and always respond promptly to any questions.

Accommodate the buyers.

It's not the customer's job to come to you. Do everything you can to make the selling process as easy as possible on prospective buyers.
Offer test drives and viewings.
Have the car's history on paper and ready to share with any interested buyers.
A happy buyer is more likely to work with you than an inconvenienced one.
Above all else: be patient.

Getting the most money out of your vehicle doesn't have to be a headache. Keep your wits about you, know your car's worth, and be prepared to walk away from the wrong deal.

If you have a car to sell in Raleigh, Fayetteville, Wilmington or the surrounding areas then give us a call today!